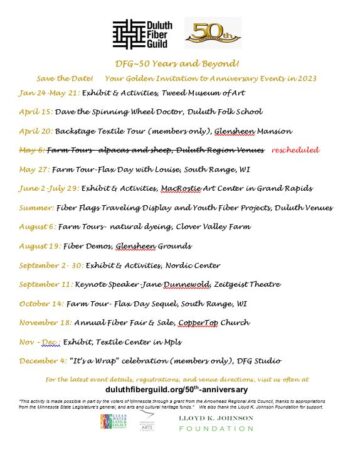 The original Farm Tours have been rescheduled to May 23 and May 24. Both dates you will be able to see alpaca shearing and visit the farm shops (fleece, roving, yarn). The free tours are available for members and the public to drop in during open hours (carpool if possible).  This event is held rain or shine; wear appropriate weather and farm attire. There are no bus shuttles for these tours.
May 23, 5:00-7:00 pm
Dream Chaser Farm

Alpac

as
,  6106 S Dedham Rd,  Foxboro 54836   218-348-2841
Directions: Take Tower Ave out of Superior. Stay on Hwy 35 to Pattison Park. Just past the park entrance turn right on Hwy B, go approx 3 miles to Dedham Rd. We have a farm sign on Hwy B. Turn right on  Dedham and we are the second farm on the right. Shearing done in the barn. It takes about 25 min to get from South Superior to our farm.
May 24, 8:00 am-4:00 pm
Frosty Ridge Alpacas
, 6059 Maple Grove Rd , Duluth MN 55810   218-341-2994
There will be approximately 80 alpacas coming and going for shearing . Frosty Ridge owners are also partnering in a mini fiber mill business specializing in alpaca fiber processing.
Directions: Take Highway 2 toward Grand Rapids. You want to travel 7.2 miles on 2 from exit 250 on Interstate 35S. Turn Right onto Sandberg Road. Take this 0.7 miles, then turn left onto Maple Grove Rd./County Highway 6. After 0.3 miles, turn right onto an unnamed drive (there will be a sign for Frosty Ridge Alpacas). The farm is 0.1 miles down this road. If you get to Caribou Lake Road, you went too far on Maple Grove Road.
May 27, 10:00 am-3:00 pm
Louise Young's house, 2915 S. Merila Rd., South Range, WI 54874   715-392-1755
This is the day we assemble along the Amnicon River and turn our flax straw into gold – golden fiber, that is, ready to be spun into linen thread! We'll be braking, scrutching, and hackling beginning at 10 AM, and work until we're worn out or our flax is all processed – probably at least 3 PM. We will have lots of flax straw to process, but if you have some retted flax, bring it and we'll put that at the head of the queue! If you have unretted flax, this will be a great chance to talk to people and get ideas on how to ret your flax. And if you want to try your hand at growing flax, we'll have seeds (and instructions) available. Flax is a wonderfully easy plant to grow, and it is absolutely gorgeous when in bloom – it looks like a piece of the sky has fallen to earth!
Everyone is welcome: flax afficionados, hacklers and hecklers, and those who know nothing about flax except that the seeds give you the runs! It's a great opportunity to learn how something like looks like plain old straw can yield one of the oldest, most useful, and truly beautiful fibers in the world. It's also a chance to get out into the country, along the Amnion River in an area filled with spring wildflowers.
To get to Louise's house, take highway 53 south out of Superior, then take the first exit – Wisconsin 13 — toward Port Wing and Bayfield. When you get to the Davidson Windmill (about 4 miles from highway 53), you'll drop down to cross the Amnicon River. Immediately after the bridge, turn left onto Merila Road, a dirt road. Follow this for about a third of a mile, then there will be another left – Pukema Road. Turn here and go past a workshop, a big gray house, and, at the end of the road, a large, half log sided garage and a smaller house. Park on the lawn.
The event will be held rain or shine – in case of bad weather, we can open the port doors of the garage and work inside. Contact phone number is 715-392-1755, however, be aware that there is very limited cell phone coverage at the site (and in fact all along the Amnicon). If you like, bring a beverage and lunch – we'll also have some munchies to keep up the strength and spirits of workers!
We always have a great time at these – there's nothing like learning and working outside on a beautiful spring day surrounded by friends!
June 5, 5:30 pm-7:00 pm
Backstage Textile Tour at Glensheen Mansion, 3300 London Road, Duluth
This is a members-only event requiring pre-registration.
June 27, 4:30 pm-6:30 pm
Fiber Felted Flags for Youth

,
Main Duluth Library, Green Room
This free drop-in event is open to the public for K-Tween. Youth under 8 must be accompanied by adult. Arrive by 5:30 for plenty of time to finish a flag.
July 30-August 18
DFG Member Fiber Flags on public display

,
Main Duluth Library 2nd Floor
The display of member-created flags related to fiber is currently being shown on the 2nd floor of the Duluth Main Library during library hours. Free.
August 2, 11:00 am
Proclamation of Duluth Fiber Guild Day

,
steps of Duluth City Hall
The Mayor of Duluth will give a formal Proclamation of Duluth Fiber Guild Day. DFG members and the public invited. Free.
August 6, 12:00 pm-5:00 pm
Farm Tour at Clover Valley Farms, 1547 Clover Valley Drive, Duluth, MN 55804
Visit Clover Valley Farms, meet their sheep, and see the results of Cindy Hale's natural dying and wet felting effort this summer. She will have a dye pot cooking and will offer short walks to learn how to identify some useful and easy-to-find dye plants. Tours & chat during the open hours of their farm stand. Free.
**Watch for the bright green Clover Valley Farm Trail directional signs on Homestead Rd.
August 19, 10:00 am-2:00 pm
Fiber Demonstrations at Glensheen Mansion, 3300 London Road, Duluth
The public is invited to watch spinners, weavers, felters and other fiber artists on the outdoor grounds at Glensheen Mansion. The event is free with payment of the  grounds admission fee.
August 20, 9:30 am-11:30 am
Past DFG Presidents Brunch: This is an invitation-only event to honor the presidents of the Duluth Fiber Guild from the past 50 years.
August 29, all day
Minnesota State Fair

: 
State Fairground, Falcon Heights, MN
Representatives from DFG will be at the MN Weavers booth at the State Fair. Hmmm? Will there be "weaving on a stick" ?
September 11, 6:30-9:00 pm
Keynote Speaker:
Zeitgeist,
222 E Superior St, Duluth
To continue our 50th Anniversary celebration, the Duluth Fiber Guild will be hosting a keynote speaker, Jane Dunnewold. Her focus will be on how to foster and explore individual and community creativity.

Doors open at 6:30 p.m.; the live Zoom presentation begins at 7 p.m. for about an hour; and questions and discussion follow.
The program is free and open to the public, but pre-registration is requested, due to limited theatre capacity (
link here
). This 50th Anniversary event is sponsored by Arrowhead Regional Arts Council, Minnesota Legacy funds, and private donations.
September 16, 1:00-4:00 pm
Spinning demonstration

:
Nordic Center, 23 N. Lake Ave., Duluth
Are you interested in learning to spin yarn or perhaps just enjoy watching this meditative practice? This month, DFG members will be on hand to share their knowledge and expertise with visitors to the 50th Anniversary Duluth Fiber Guild exhibition at the Nordic Center. Please stop by to meet other fiber folks in your community.
September 17, 1:00-3:00 pm
SunFunDay: Special Duluth Fiber Guild 50th Anniversary event
Nordic Center, 23 N. Lake Ave., Duluth
Children will make fiber projects with Sue Brown & Alison Aune. Register at nordiccenterduluth.org; $5 donation suggested.
September 23, 1:00-4:00 pm
Beginning Drop Spindle Spinning: Special Duluth Fiber Guild 50th Anniversary event
Nordic Center, 23 N. Lake Ave., Duluth
Try your hand at spinning yarn using a drop spindle. Louise Young will be guiding you. Register at nordiccenterduluth.org; no fee.
September 30, 1:00-4:00 pm
Beginning Wet Felting: Special Duluth Fiber Guild 50th Anniversary event
Nordic Center, 23 N. Lake Ave., Duluth
Make a wet felted flower with Cindy Ericksmoen. Register at nordiccenterduluth.org; $35 fee; limit of 8 adults.